Fully Managed


Dedicated Hosting

Access around-the-clock expert support while hosting your own super-fast dedicated servers with Fully Managed Dedicated Hosting. Available with high capacity HDD or high-speed SSD storage.

SSL Certificate Included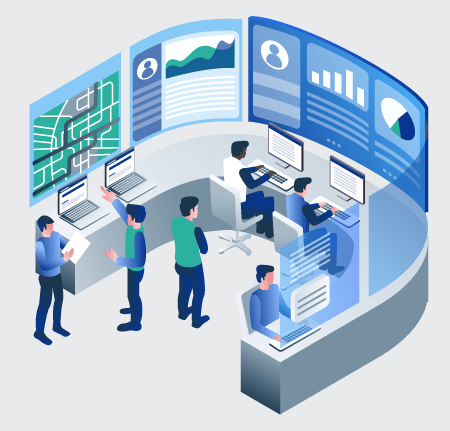 Bare Metal
Servers
Utilize the processing power of bare metal servers from a tenant.

Unlimited
Bandwidth
Avoid extra hidden fees caused by bandwidth limitations.

Root
Access
Enjoy root and admin rights for total management of the server, right down to the kernel.

Expert
Security
We monitor your network 24/7. Advanced DDoS protection included.

Dedicated IP
Included
Each server includes one IP address. Additional IPs be added.

SSL
Included
Free for the first year with any annual hosting plan. Renews at the then-current price until canceled.

Newest
Technology
Achieve the best performance with the newest hardware and software.

US or EU
Datacenter
Choose your nearest datacenter to achieve the fastest load times .

24/7/365
Support
Our dedicated server support team is ready to manage your server for you.

99.9%
Uptime
If we don't uphold the guarantee, you may be eligible for a discount on your purchase.

Easy Control
Panels
cPanel/WHM or Plesk included on Linux CentOS.

SSD or
HDD
Configure your server for high performance or high capacity.
Fully Managed Dedicated Servers Include the Following Services:
Migrations
Premier Hosting Support
Apache optimization
Server Setup
DNS Setup & Configuration
SSL Installation
HTTP/2 Configuration
Email Setup
PHP Install/Upgrade
MySQL Optimization
WordPress Setup
Firewall Configuration
Server Hardening
.htaccess changes
Performance Analysis
Pricing & Plans
Up to 20x Faster than Servers with HDD!
Do you have the expertise required to manage your own Dedicated Server?
Our Self Managed Dedicated Servers deliver the performance you need while granting you full root access and flexibility .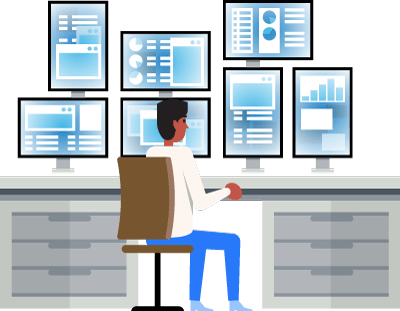 Frequently Asked Questions (FAQ)
The entire physical server is leased to you. If it is self-managed, administration is solely your responsibility. The setup can be specifically configured for your application, such as a website, web hosting, database, gaming, and video streaming. Multiple servers can be set up to work together, increasing performance even further. If your company is larger or is expanding quickly, a dedicated hosting server will be one of your most effective options.
If you prefer to have a team of professionals manage the technical aspects of your server(s), Fully Managed Dedicated Hosting may be the ideal choice to satisfy your hosting needs. This extra help can free up more time for you to focus on your business.

With a Self Managed Dedicated Server, you manage your own server. It would be your responsibility to deal with pressing problems or server deployments, which call for more technical expertise. This kind of hosting is typically preferred by developers or system administrators since it allows them flexibility and control over their server.
With VPS Hosting, you still share a server's resources with other users. However, your website receives dedicated resources in its portion of the server, unlike shared hosting.

With a dedicated server, your website has exclusive use of the entire physical server (s). Unlike a VPS, you receive the entire server rather than just a portion of it.
If you want the most power and control over your hosting environment, dedicated server hosting is for you. You should also possess strong server management abilities to manage your dedicated server to its full potential.
Our smallest dedicated server bundle is still a high-performance system and a fantastic place to start. You can select a higher performance package based on how you plan to utilize the server. A package with at least 128GB of RAM is advised if you are hosting enterprise services, SaaS applications, or video streaming. Your choice may also be influenced by how much storage you need. 
There are no automated upgrades or downgrades because these servers are bare metal. Upgrading or downgrading requires you to get a new server, relocate the content, and then terminate the previous server.
Each hosting environment and website differ from one another. It's nearly impossible to devise a generalization that covers every single type of website and hosting option currently available. Here are a few indicators that it's time to switch to dedicated server hosting, though:
If your site is running slow If your visitors frequently encounter server error pages or experience slow loading times, upgrading your dedicated server may be a good choice. You can review your hosting error logs to see if there are a lot of HTTP error codes such as 500 (Internal Server Error) and/or 503 (Service Unavailable Error). If there are many errors, the traffic your hosting is experiencing might be too much for it to handle. Google's PageSpeed Insights allows you to check the typical page load times.

If your traffic has increased Many webmasters start seeing the dreaded server error page once a posting goes viral. Don't let a poor server choice restrict your company's possibilities. If your website is seeing steadily increasing traffic levels, it would be a good idea to ensure that your dedicated server has the capabilities to handle the increased load, before there is a problem.. With the correct tools, like Google Analytics and the cPanel-integrated Webalizer, tracking the traffic to your website is fairly simple.

If you have added more functionality Your host's processing power may need to be upgraded if you have added features or content to your site that are more demanding. In-depth server-side programming, massive databases, numerous WordPress plugins, streaming video, heavy image and video file sizes, and gaming may all fall under this category.

If you are running multiple sites If you have numerous shared properties, consolidating all of your websites under one dedicated server might be helpful. A dedicated host that you already have may need a performance upgrade if you add more sites to it.

We offer user-friendly web-based control panels, like cPanel/WHM or Plesk Obsidian Webhost Edition, which is accessible on Linux CentOS and contains the WordPress framework.
Although it should just take a few minutes on average, provisioning your account may take up to 24 hours or more. However, call us at if you need hosting quickly, and we'll do everything we can to speed up the process.
HDDs, which are traditional spinning disks, have the largest storage capacities; nevertheless, despite their extraordinarily high capacities, HDDs are not the fastest solutions. For clients who have a high demand for read/write performance, we provide SSD. Because they don't have any moving components, solid state drives, or SSDs, are by definition much faster than hard disk drives (HDDs). We provide NVMe SSDs, which dramatically increase performance by utilizing the PCI Express-based solid-state drives' NVMe interface protocol. Due to their lack of ATA interface inefficiencies, NVMe SSDs provide up to 4X more input/output operations per second than the fastest SAS alternative.
The Redundant Array of Independent Disks (RAID) configuration joins the drives so that the server's operating system perceives them as a single unit, allowing data to be stored on multiple hard drives at once. This offers your data an additional layer of security, preventing downtime and data loss in the event of a hard disk failure. RAID-1 is a feature of every hosting package for our dedicated servers.